Jen of
Slumber Designs
started an exciting new project, she created a blog to help bloggers find other bloggers close to them. It's called
Location Central
and she has over 500 bloggers signed up by state. It's simple -- all you have to do is leave a comment in your state (ie. North Carolina) with your blog address and city. You might want to go try it out and see who your neighbors are!
On her blog, Jen says: "I have started a new blog called
Location Central
. This blog will be a one-stop shop for bloggers around the world to locate fellow bloggers in our areas. The reason I created this blog is because I know there are so many other bloggers in my state but I just don't know who they are. Heck, I may have a few in my own neighborhood! I would love to visit their blogs, learn more about my community and hopefully build new friendships and networks. I know many of you have expressed this same desire. What perfect way to find out who lives near us!"
Just in case you were wondering--that green star is my hangout: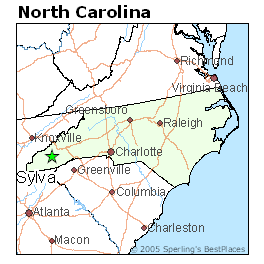 And for all of you in the Asheville area--don't miss this one tomorrow: