While living in the mid-west right out of college, I had the opportunity to work in visual merchandising for the Jones Company. I loved the opportunity this position gave--the combination of using textiles and objects to evoke an emotional response. Hopefully the response was 'I want to buy THAT!'



(anthopologie window)

One of the best in the business (in my opinion), is the fabulous Eddie Ross.
And really, his first name should be Fabulous....Fabulous Ross.
He has worked for Martha, House Beautiful, and a little stint on Bravo's Top Design
(what ever happened to that show?)
..



He has a kazillion talents--he ran his own catering company for a bit. He has executed beautiful, stylish events and has a true passion for entertaining. AND he does it on a small budget with objects from Goodwill, Homegoods, and tag sales (my kind of decorating!) just to name a few...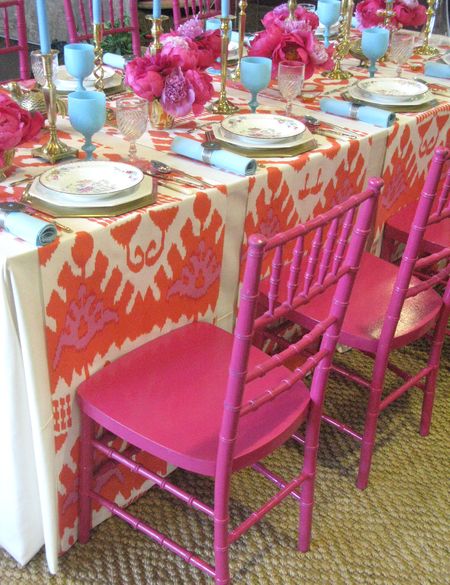 He competed and won the Bloomingdale's window design challenge last Christmas:




He creates the most entertaining stories about the (pretend) people living in his 'windows'. He is very animated and his wonderful narratives are as much fun as his windows.

I am currently completely enamored with a window he just completed for the icon, Carleton V ltd.--
producer of gorgeous textiles. He was given a tiny window --
90 inches wide by 34 deep, or about the size of a closet.




After a few days of contemplation, he decided to create a work space for a well traveled,
busy designer (hhmmmm...really liking this idea ;)

First on the agenda -- the walls...of course they would be draped in fabrics! Look how much bigger the space looks by using a large scale pattern on them!

























Then, using more of the fabrics, he created the desk with plywood, staples, ribbon and hot glue:




For his last DIY..a corkboard that he covered in silk (not sure how practical silk is on a corkboard ...but it looks fantastic!)




Then he brought in his final layer: wonderful antiques, artwork, desk accessories, fresh flowers...


The end result is soooo beautiful. It does exactly what it should--it shows the fabrics (the 'customer') in a beautiful, relatable vignette. It makes you stop and for a little bit you can imagine yourself being a part of this room....answering client calls, jotting thank-you cards, reviewing paint samples....




I would be extremely happy working in this little window!! Such a great job!!
Thanks Fabulous Eddie for the Monday Inspiration!

For more on this project, check it out here